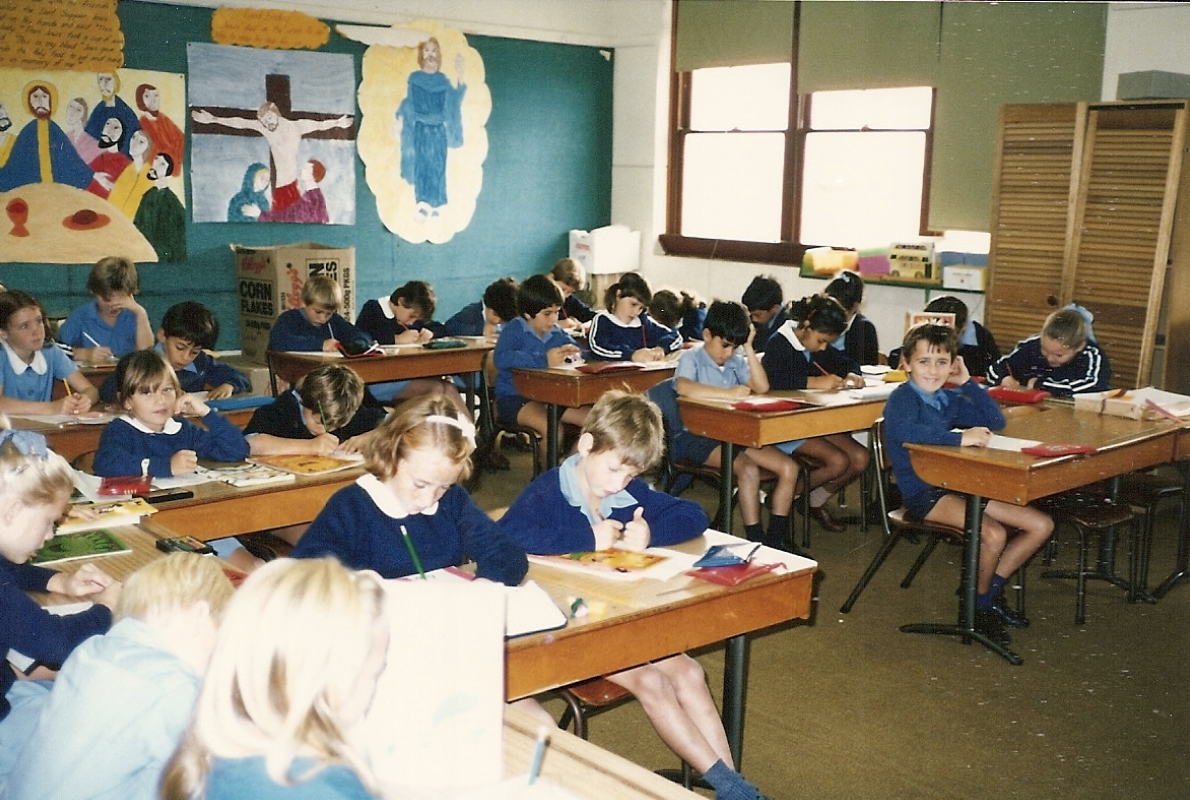 (A class at St Patrick's Primary School, Blacktown in 1978)
As the school celebrates its 100th birthday, community spirit is still strong at St Patrick's Primary, Blacktown. After one hundred years of educating young people, two families have had a long association with the school.
St Patrick's Primary, Blacktown opened in 1919 with 35 students in Patrick Street. It was a parish school administered by the Parramatta Sisters of Mercy in response to local families wanting a Catholic Education for their children. By the end of the year, enrolment had doubled and steadily increased until the early 1960s when the school had 1000 students.
In 1986, the school relocated to its present site in Allawah Street and in 2001, the Sisters of Mercy withdrew from the school.
Principal Monica Fitzalan said the school continues to build on the great work of the Sisters of Mercy by providing a quality Catholic schooling experience for students. "We are still building on children's inherent curiosity to drive the learning but we know that our students today need to be prepared for an ever-changing world, " Mrs Fitzalan said.
The school was built on a foundation of parent helpers and today, one family is still very active in the life of the school. Bill and Pauline Borg, sent their six children to St Patrick's and now five of their grandchildren are pupils. Several of their children have become teachers in the Catholic Education system.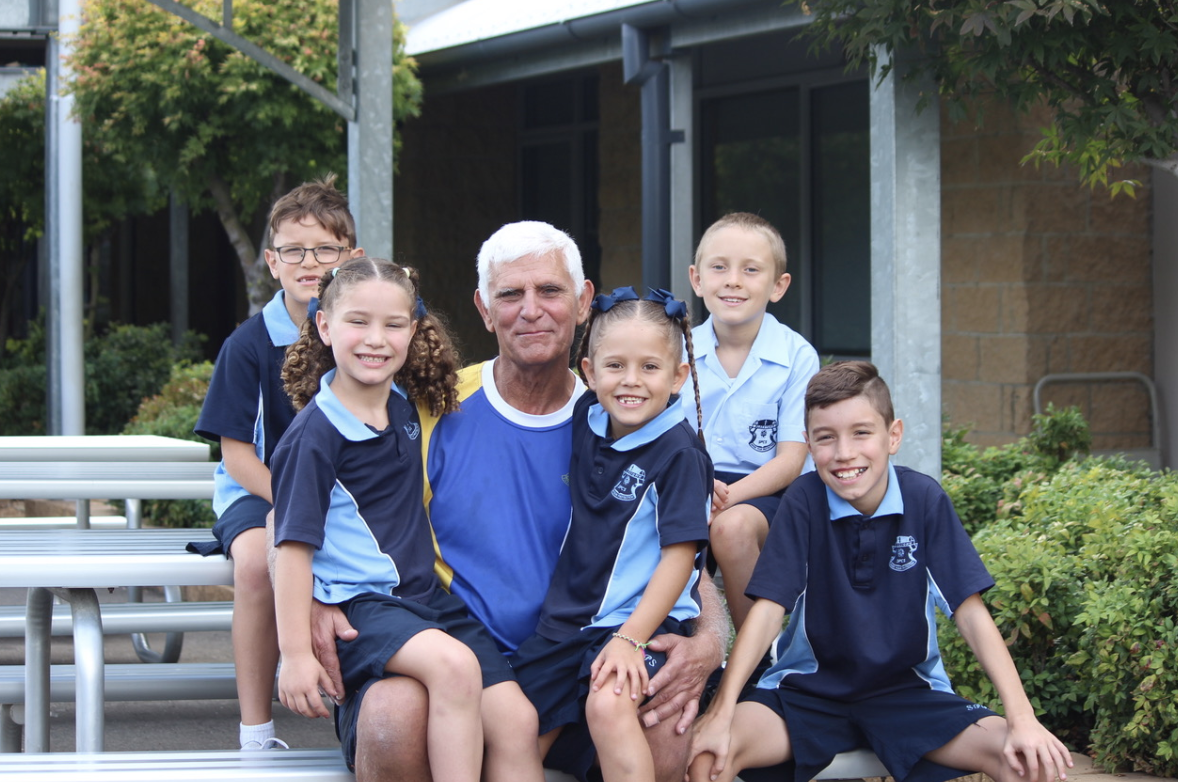 (Bill Borg with five of his grandchildren (L - R) Christopher Weatherby, Jessica Weatherby, Stella Borg, Xavier Borg and Logan Weatherby)
In fact, Mr Borg's association with the school goes back even further. Some of Mr Borg's siblings also attended St Patrick's Primary. Mr Borg who completed his secondary studies at Patrician Brothers Blacktown, also volunteers his time as a maintenance man.
"If St Pat's or Patrician Brothers ever need something done, I am happy to help. I can't say no!,'' Mr Borg said. "I grew up in a different era when I feel it was easier to volunteer your time at the school. I think it makes a big difference with the children knowing their mum and dad are available to give a helping hand at times,'' Mr Borg said.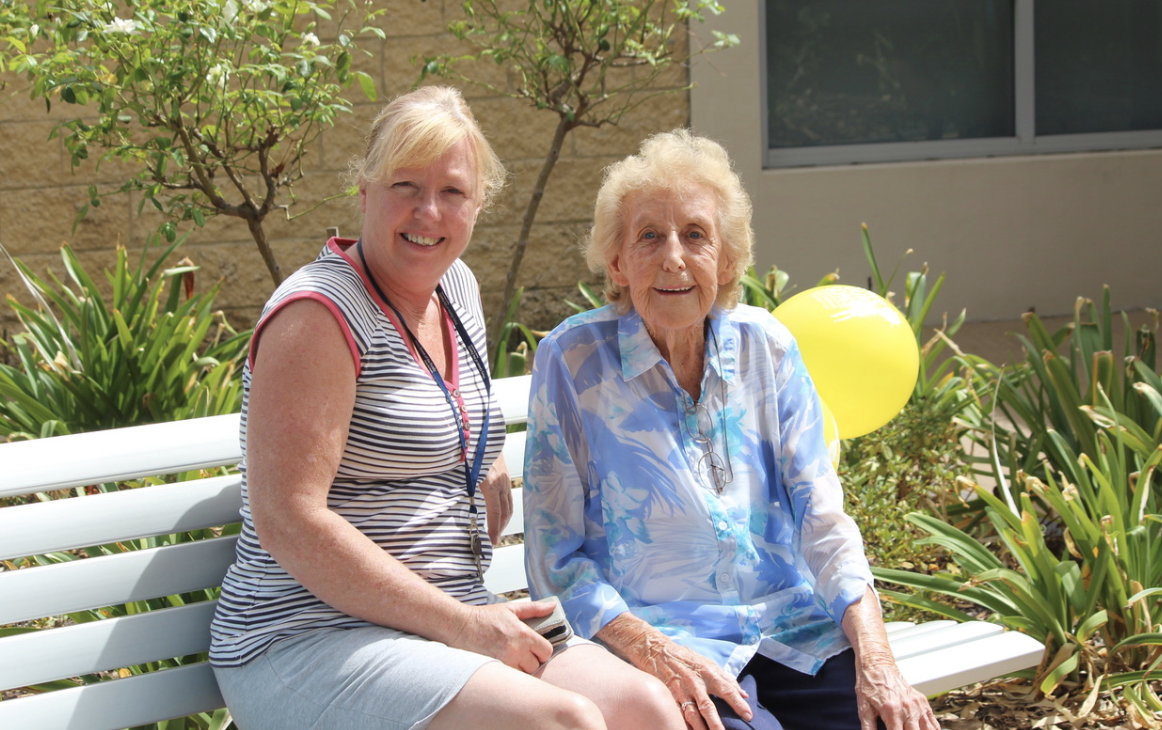 (Jean McLean with her daughter Leigh Miller who have both volunteered at the school and are active members of the Parish)
Another valued volunteer member of the St Patrick's Primary School community is Jean McLean, who became involved at the school when all three of her children attended about 50 years ago. "I used to help out in the TuckShop, doing the gardening with my husband and was part of the Building Committee,'' Mrs McLean said.
"Some of my memories of the school centres around when it had two big floods. I also remember when Council put in the piping the school needed,'' Mrs McLean said. The family also donated a framed school blazer from when her daughter Leigh was in Kindy, which hangs proudly at the school.
Continuing the family tradition, daughter Leigh also volunteered at the school when her daughters Carly and Amy were students!
"I remember helping out in the Canteen and mum would help out too! I was also a member of the Parents and Friends Association when we raised enough funds to help get air conditioning installed in the school,'' Leigh Miller said.
These days you will find Mrs McLean behind the wheel of the Parish bus, driving seniors around to their different social gatherings and trips away, while Mrs Miller works at the adjacent church.
The school will celebrate its Centenary with a Mass on St Patrick's Day (March 17th) followed by a family picnic, Sausage Sizzle and Tours of the School from 10am.